Facilities
---
We relocated to a spacious and modern new premises in Spring 2020. Our new practice is housed within a beautiful traditional building with pleasant green surroundings.
Car Park
We have a large spacious car park with separate entrance and exit drives allowing for ease of access. In total, we have forty-one car parking spaces and a disabled bay, so you should never have a problem finding space to park at the practice!
Reception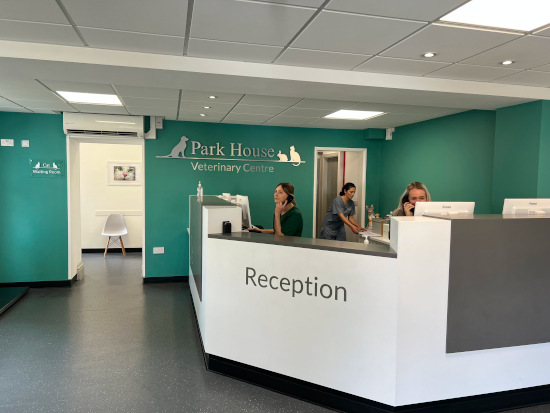 On your arrival you will be welcomed by our friendly reception team. We have a bright and airy main reception room with a separate dedicated cat waiting room that can be used for cats or small mammals. Our cat waiting room has shelves for you to place your cat carriers on as cats are often happier at vantage points. There are also covers for your cat carriers that you may use to help settle your cat. If you prefer, you are more than welcome to wait outside or in your car once you have registered your arrival.
Consulting rooms
We have five bright, pleasant consulting rooms with modern up-to-date diagnostic equipment.
Pharmacy
We have a modern, well-stocked pharmacy on site that receives daily deliveries for most medicines.
Cat Ward
The cat ward is a large sunny room which the cats love. It is positioned well away from the noise of dogs and is a real oasis of tranquility. All of our kennels meet the International Society of Feline Medicine (ISFM) gold standards and are designed so the cats can not view any other patients when in their kennel. We have twelve spacious kennels and four even larger kennels for overnight stays. We have cat hideouts which can be placed inside their kennels for an added sense of security if needed.
Dog Ward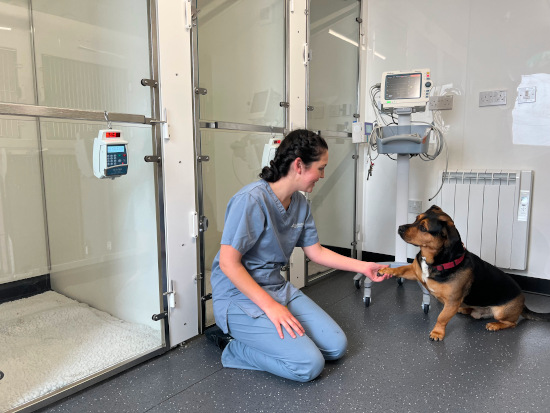 We have seven large walk-in kennels with underfloor heating, which are proving to be very popular with our patients. We also have a further eleven smaller kennels for our smaller patients that may prefer to feel more cosy.
Isolation Ward
We have our own isolation suite for any inpatients that may be suffering from an infectious disease.
Theatres
We have two state-of-the-art theatres with cutting edge facilities to enable us to perform advanced surgical procedures whilst maintaining the highest standards of patient monitoring.
Diagnostic Imaging Suite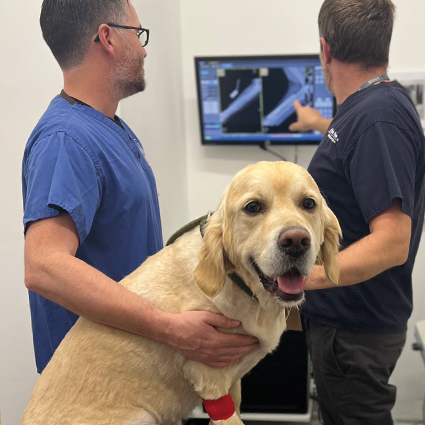 We have a separate imaging room to allow us to perform ultrasonography, echocardiography, endoscopy, rhinoscopy, bronchoscopy, digital radiography and dental radiography.
Preparatory room
The prep room is the busy hub of the practice. This is where we prepare our patients for surgery and organise our day procedures list.
Outside Care
We are very lucky as we can walk our inpatients in the lovely surrounding grounds, but also have a private yard to allow our patients some fresh air and time outside.